Clan Badges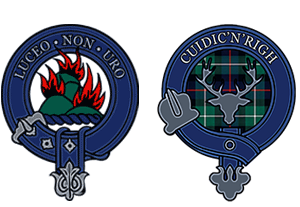 The Armorial bearings are azure, a stag's head cabossed, or, Crest, on a wreath, a mountain inflamed, proper.
The armorial bearings of Clan Mackenzie are the crest on a wreath, a mountain inflamed proper bearing the motto: Luceo non Uro – Latin (I Shine Not Burn).
Another crest closely associated with Clan Mackenzie is that of Mackenzie of Seaforth, which shows the cabar feidh or deer's antlers bearing the motto: Cuidich'n'righ – Gaelic (Help the King).
Clan Chief
The Caberfeidh is John Ruaridh Grant Mackenzie, 5th Earl of Cromartie.
War Cry
Tulach Ard – Gaelic
Harks back to the days when the clan would gather for battle at a hill in Kintail known as Tullochard on which the beacon fire was lighted.
Floral Badge
Holly, Deer's Grass